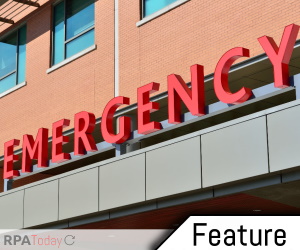 With its heavy reliance on manual processes in the back office, healthcare has been an area of focus for RPA providers since the technology's emergence a half decade ago. During the global pandemic, as hospital systems in several geographical areas were overwhelmed by Covid-19 patients, the need for that focus became even clearer. As the virus has taken hold around the world, healthcare providers have had to do more with fewer resources and a dwindling pool of able workers.
"Now more than ever, it's imperative that healthcare systems have foundational support to keep mission critical processes running smoothly so they can be confident in their ability to provide the best care possible to patients without any interruption," says Pat Geary, chief evangelist for RPA provider Blue Prism.
While pandemics involve widespread pain and hardship, they also offer lessons and spur innovation that can be tapped for decades after the danger has passed. The healthcare industry is front and center of the response and no doubt will search for ways to be more efficient moving forward. So, for now and for later, RPA will play an increasingly important role in the field.
Healthcare Reacts to Crisis with Automation
In times of less upheaval, healthcare organizations looked mainly to back office and finance functions to find processes that would benefit from automation.
"Most hospitals come to RPA through the finance function and the Healthcare Financial Management Association," says Steven Gerhardt, CEO of Houston-based consultancy Element Blue. "So the executive driving it, in most cases, is the vice president or director in charge of revenue cycle."
During the pandemic, though, where the capacity of hospitals was being stretched in many places, efficiently processing patients so they could be admitted and receive care quickly became paramount. And, RPA was able to assist, according to Chris Draven, manager of automation at Blue Cross and Blue Shield of Kansas City.
"Obviously, leveraging bots to process electronic forms, run OCR (optical character recognition) on scanned insurance cards, and automatically access payer portals for eligibility information are just a few areas where automation could improve the intake process for critically ill patients, saving crucial minutes."
One area where RPA streamlined care during the Covid-19 pandemic, according to Gerhardt, was in pediatric testing. A large pediatric provider needed a large number of parental consent statements to go out that would enable it to test children for the disease. They automated the process of preloading those consent statements into each patient's electronic medical record (EMR) so that when the patient and their family showed up to be tested, the test was already authorized.
"They didn't have to waste time explaining to medical personnel on site that they had the required consent or fill out the forms again," Gerhardt says. "That wasn't a normal process, but it's something a digital worker could queue up and push back to the EMR."
Reporting Covid-19 data from hospitals on the front line to state and federal agencies, which was vital in the early days of the pandemic, would have been far more problematic without RPA, says Jerry Adach, manager of Web, Data Access & Automation for Ellis Medicine, a regional hospital system based in Schenectady, N.Y.
"To get as accurate a picture as possible about the disease's spread and effects, we are primarily using RPA to provide real-time data to folks who need it in order to make decisions and to satisfy state reporting," Adach says.
RPA has proven its worth during the pandemic, but when it ends, as all crises inevitably do, the case to continue its use in the healthcare space is strong. And, organizations that have been reticent to try RPA can feel confident in the business case to do so.
After the Fire
Despite the success of RPA before and during the Covid-19 pandemic, most healthcare organizations, those on the insurance and administrative side as well as those directly involved in patient care, are early in their automation journeys.
Adach's advice for hospitals at this stage is to start small with bots automating processes that will show clear ROI to an organization's leadership. He says identifying the right development team and giving them an adequate technology infrastructure are also critical for getting started.
Process intelligence, according to Draven, is a key factor in implementing an effective RPA program. Getting it right from the beginning can pay outsized dividends.
"Business rules live in the heads of healthcare professionals who have been doing the work for years, sometimes decades," Draven notes. "Make sure a real process analysis is completed leveraging those in-house experts. If you don't suss out all the details early in your planning, you will be stuck in a cycle of iterative development that can't go into production."
Draven also warns practitioners to resist the pressure to scale immediately. First steps should include establishing best practices through clear, effective governance and oversight.
Scale through Structure
Achieving scale, however, is the best path to the ultimate promise of RPA in terms of efficiency gains and cost savings. Across all industry verticals, early adopters of RPA have found that goal challenging. Healthcare is no different.
It is easy to show RPA's benefits in a single meeting. What isn't so easy, is to provide a framework that can replicate that meeting in all the areas of an organization that can benefit, says Gerhardt.
"They need to have structure around the programmatic expansion of the initiative," he explains. "They have to make it turnkey to introduce automation to different business groups, to educate those business groups. In large companies the left hand often doesn't know what the right hand is doing. Setting up the introductory calls and feasibility calls that communicate RPA's capabilities to other parts of an organization isn't as automatic as it should be. There is an education enablement that needs to happen."
When the pandemic passes and healthcare providers are no longer on high alert, organizations will look to regain the efficiencies they may have abandoned when they were throwing resources at a true global medical emergency. Champions of RPA within healthcare organizations are prepared to use automation as an effective tool to achieve it.
---
If you liked this article, please sign up to RPA Today! Registrants will receive our free weekly RPA newsletter updating you on the most recent developments in the Robotic Process Automation, Intelligent Automation and AI space. In addition to news updates, we will also provide feature articles (like this one) with a more in-depth examination of RPA issues for end users and their enterprises.