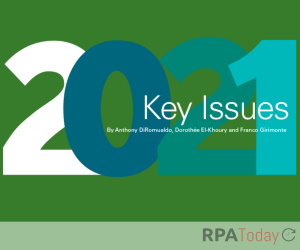 The pandemic elevated the strategic role of Human Resources departments in companies around the world this year and, if HR professionals are to retain their newfound stature, they will have to effectively manage how staffs navigate digital transformation and automation technology, according to a new report from The Hackett Group.
In the 2021 CHRO Agenda, the Miami-based consultancy noted that HR departments will need to align talent management with business strategies including process automation via RPA, which it expects to grow 16 percent in 2021.
"Modern technologies, including cloud-based platforms and workflow automation, will be essential to increasing agility," the report's authors wrote. "Business process management and workflow tools should also see strong growth during the coming year, as companies assess current workflows and look for ways to eliminate delays, rework or complexity."
More than half of all organizations will make digital transformation their top priority in 2021, making it the top overall priority in the annual survey for the first time. Cost optimization and virtualization of work—also areas that organizations can apply RPA to—also made the top five priorities.
According to the report, HR departments will have a significant impact on companies' ability to reach their goals in 2021, and automation will play a large role.