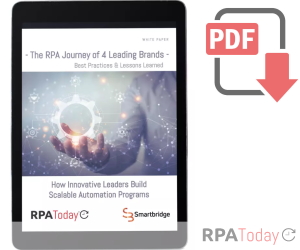 Despite the relative popularity of RPA, it is still a nascent technology that requires resources and expertise to implement. Even companies that have recognized the benefits of automation and understand the need, can find starting difficult. You can't always reach the "low-hanging fruit" of legend, if you don't know it's there.
RPA Today has partnered with Smartbridge, a consultancy specializing in digital transformation, to tell the stories of four organizations that have taken those first tentative steps into RPA and intelligent automation. Technology leaders from companies in verticals as disparate as commercial real estate, quick-serve restaurants, and state government share their philosophies on automation, what they chose as their initial projects and why, best practices they will employ in future projects and why they chose to work with an outside partner to get their RPA programs off the ground.
The paper, titled The RPA Journey of 4 Leading Brands: Best Practices & Lessons Learned, includes interviews and case studies with CIOs and automation leaders from Whataburger, the Texas Department of Information Resources, Hines and Weingarten.