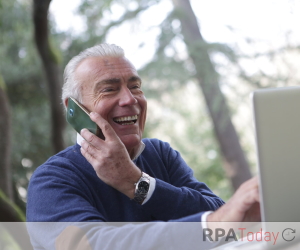 Companies drew on RPA and other automation technologies to help them through a pandemic that resulted in the most challenging economic environment in decades. The results of a new survey from process intelligence provider ABBYY, however, show that businesses moving to an increasingly remote workforce must account for how the technologies, processes and tools enabling that shift are affecting employees in different age groups.
Surprisingly, The ABBYY Covid-19 Technology and Business Process survey found executives over the age of 55 fared better than those 35 and under during the pandemic in dealing with business processes in a Work From Home (WFH) environment.
The older cohort was less likely than the younger to say processes make their job more challenging (36 percent compared to 61 percent, respectively). At the same time, 85 percent of the under-35s said business processes "waste their time" vs. 20 percent of the 55+ respondents. Younger workers were also nearly three times as likely to report they didn't have enough information about or visibility into business processes.
It's unclear why younger workers, who should be more comfortable in a digital setting, felt this way, but Bruce Orcutt, ABBYY's senior vice president of marketing, said businesses must acknowledge the disconnect.
"While companies were quick to implement new technology to help remote workers, a lack of focus was given to the ease of use and impact to the overall work processes that is frustrating digital natives and impacting their motivation and productivity," said Orcutt. "In addition to AI enabling technology and process tools, companies should consider how they can help employees balance their WFH life through new programs and services, training, and upskilling."