Welcome to the newest section of RPA Today. In partnership with NICE we have created a dedicated space on the website for information & perspective from the NICE team.
---
Automation Finder Demo
In this 4 min demo, you will see how Automation Finder identifies and prioritizes processes ripe for RPA, using advanced unsupervised machine learning algorithms, and then creates those automations in a click, using its innovative click-to-automate capability.
---
NICE Advanced Automation Solutions Automation Finder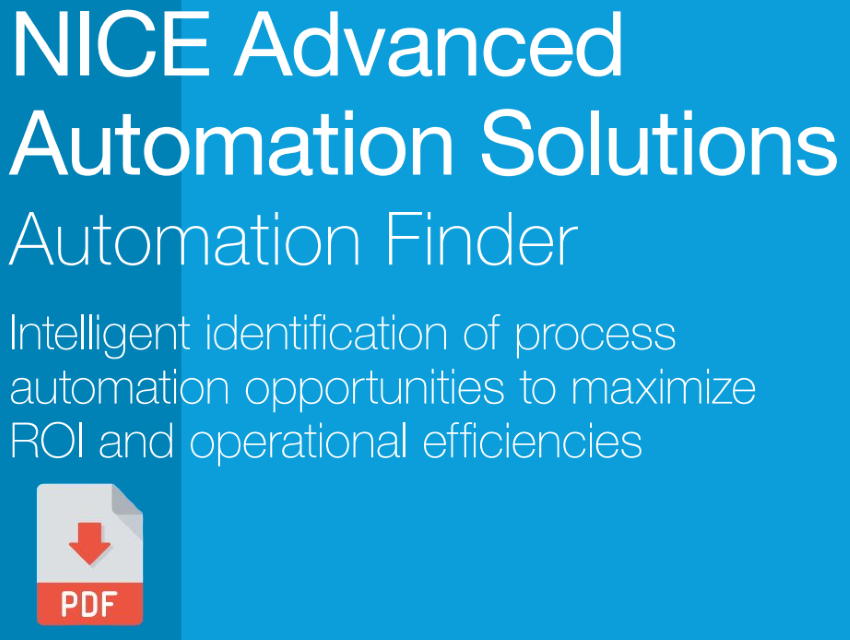 Selecting the right processes to automate with process bots is a critical step towards ensuring Robotic Process Automation (RPA) project success and driving sustainable ROI. Automation Finder is NICE's desktop process mining tool, and it is delivered as part of its attended automation solution, NEVA. Read more about how it identifies automation opportunities, using advanced unsupervised machine leaning capabilities, and about its one-click capability for designing a new automation flow directly in Automation Studio.
---
Unpacking the True Value of Attended Automation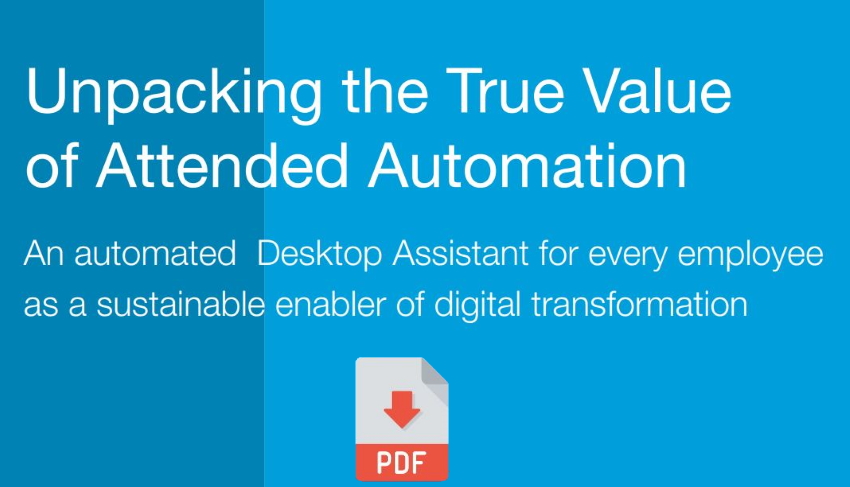 This 13 page white paper unpacks and explores the fascinating technology powering NEVA Attended RPA bot, for empowering the contact center agents in performing their work, and flawlessly work side-by-side with them.
---
Bringing People and Robots Together: Short Video Demo
NEVA, NICE's attended automation bot, assists employees with their daily tasks. In this demo, you will see how NEVA guides a utilities contact center agent, step by step, through a complex, lengthy and error-prone process. NEVA helps the agent complete the process efficiently, in adherence with internal compliance guidelines, and even helps him with an upsell opportunity.
---
Video Testimonial
Watch John Mackey, Automation Manager at Swinton Group, explain how his organization benefitted from deploying a combination of NICE's attended and unattended robots.
Want to learn more? Download the PDF Case Study below.
---
New Contact Center Case Study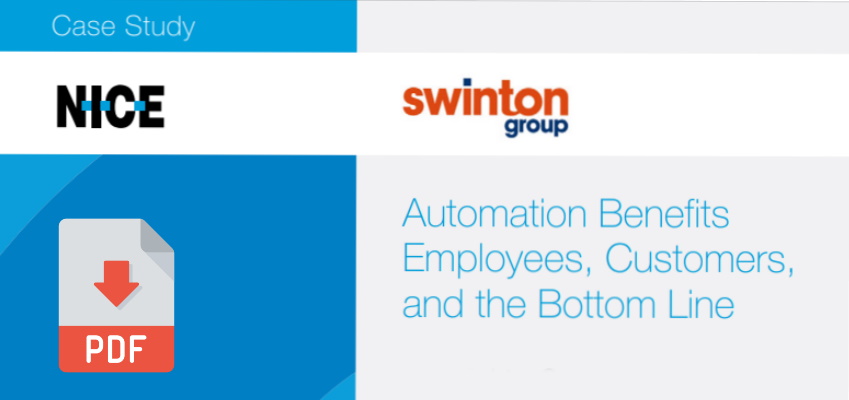 The Swinton Group is a United Kingdom-based insurance retailer established in 1957. The company operates a contact center in Manchester, England, employing 450 frontline agents (out of over 1,000 employees overall). The agents handle an annual contact volume of about 2.4 million.
Swinton adopted a robotic process automation strategy. This included the deployment of both attended and unattended robots to automate repetitive and time-consuming tasks in the various contact center workflows.
You can direct download the 2 page PDF to learn about their positive results, such as:
Reduced hold and wrap time
AHT reduced by an average of 50 seconds
AHT for new business sales calls reduced by almost 3 minutes
Cost savings of 40 FTE
Capacity increased by an extra 7,781 calls per month
11% increase in customer NPS
---
Unleash your employees and processes by strategically using attended and unattended automation in tandem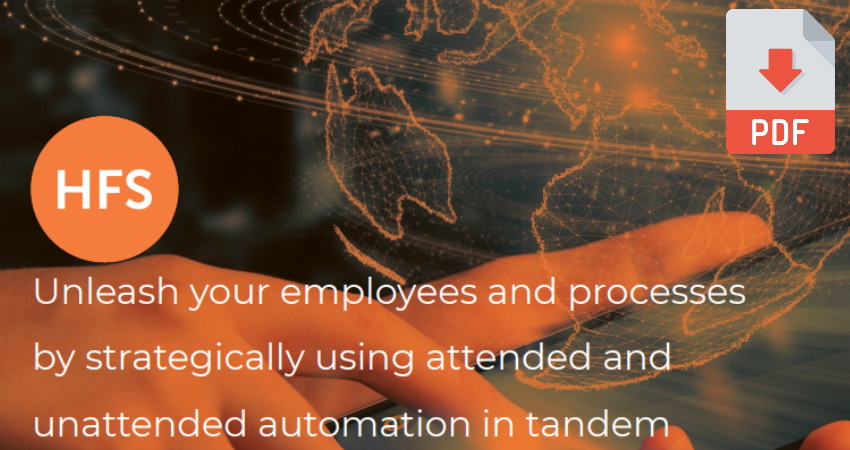 As enterprises strive to scale their automation programs and fashion RPA into a native element of their digital business architecture, they are increasingly turning to attended automation as a core lever to help drive adoption at scale and achieve tangible value in the very near-term—while hoping to fundamentally redesign processes in the long-term.
Attended automation must be a native part of broader automation, customer and employee experience (CX/EX), and enterprise strategies. In a recent webinar, NICE and HfS examined attended automation's evolving role as a complement to enterprise automation programs, joined by OP Financial Group, the largest financial services group in Finland, which is living and learning from its attended-unattended duality.
Download the PDF summary today.
---
Get to know NEVA (NICE Employee Virtual Attendant)
In this 90-second video, learn how NEVA (NICE Employee Virtual Attendant) personally enables front- and back-office employees to reach their best potential.
NICE is pioneering what it calls Automation For The People, a commitment to people-centered robotics built on a strong robo-ethics framework and easy access to robust technology. In addition to RPA solutions, it is also a leader in attended automation, which is the next big wave in the world of RPA.
---